THE VIZAG DENTISTS

IMPLANTS

Worried that you have too few teeth to support bridgework? Seeking an alternative to conventional dentures that have to be removed. Implant supported fixed and removable replacement options open up a vista of affordable possibilities.
ALL CERAMIC CROWNS

All ceramic crowns and bridges are an excellent long term esthetic solution for patients.
« stability and precise fit
« Excellent long term natural aesthetics
« Biocompatibility
DENTURES

Complete Dentures : If some reason you have lost all your teeth, don't worry. Complete dentures are an economical solution for those for whom implant based replacements are not recommended
About us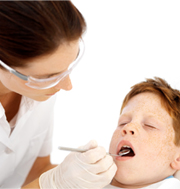 Our Clinic
Dr. Subadhra Prakash, Chief Dental Surgeon & Dr.(Prof)R. Prakash, consultant Prosthodontist deal with all aspects of dedicated dental care ranging from treating simple dental problems to complicated full mouth restorations, in the city of Destiny, Visakhapatnam, Andhra Pradesh, India. 
The main emphasis is on PROTECTING & PRESERVING existing teeth by way of tooth colored fillings, crowns & veneers & more specialized procedures like root canal treatment thereby avoiding extractions whenever possible.
State of the art equipment procured from M/s Planmeca, Finland, make diagnosis, treatment, hygiene & cross infection prevention a thing of ease.
All forms of fixed & removable  replacement ranging from simple or magnet retained dentures, bridges & crowns &  implant based replacements are options provided when teeth are missing.
We believe that by making your smile the best it can be will go a long way in improving your quality of life. A beautiful smile builds confidence; healthy teeth and gums improve your overall health.
Glossary
Having trouble understanding terms such as amalgm, bonding, or halitosis? Dentist4u.com has a comprehensive glossary to help you decipher those terms